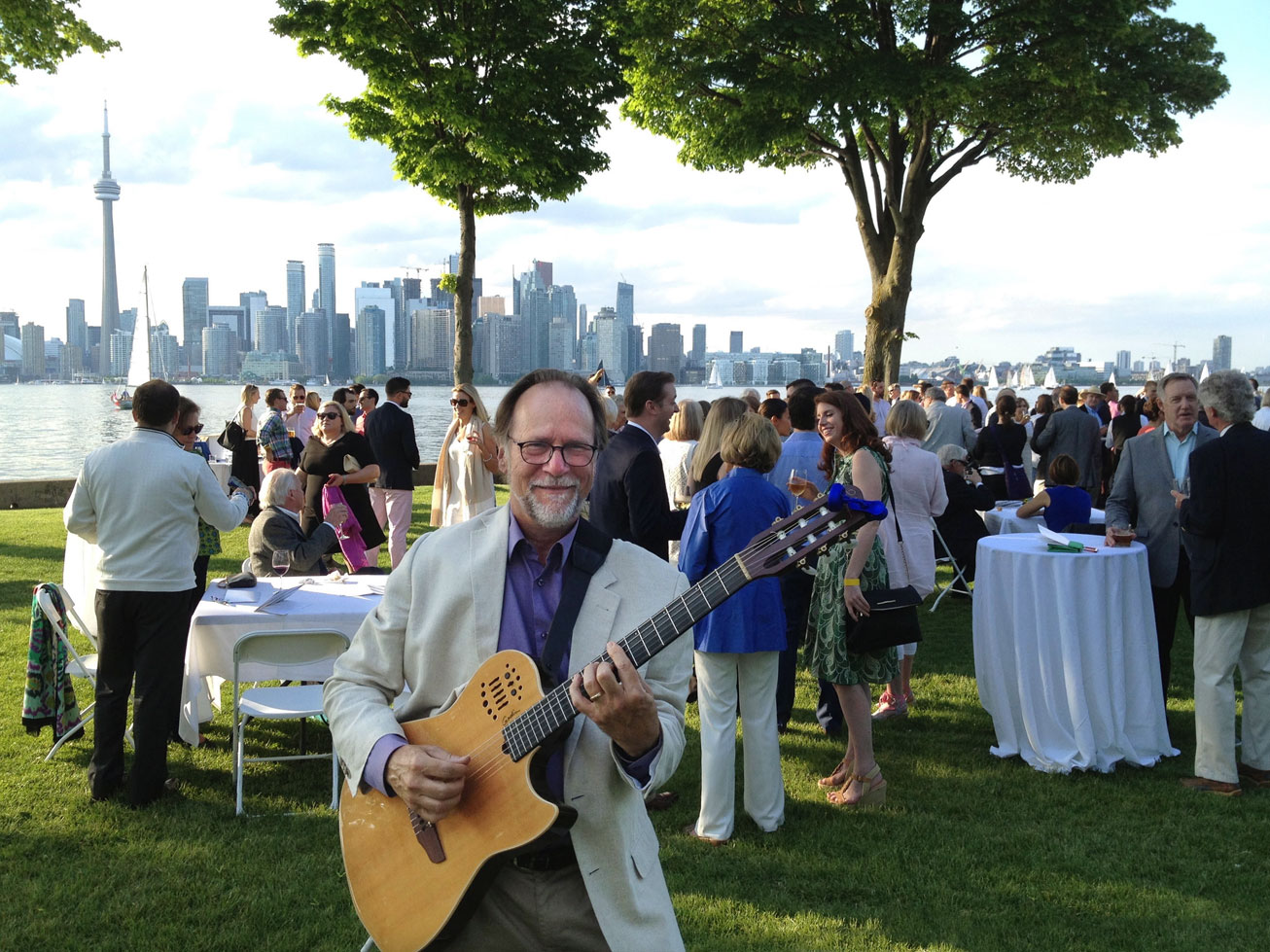 "Dunstan Morey was outstanding for our corporate event. He was responsive, professional, flexible and really was the finishing touch to our event. His music was beautiful and was always at the appropriate volume. I highly recommend Dunstan for any event that you want to add that extra classy touch."
Amy for Hummingbird Lawyers LLP, Thornhill
Choosing the perfect music for your corporate event

Instrumental music works well at business events, such as a solo guitar or duo with violin or sax/flute, but a live singer can also work well in the background.
Sometimes a vocalist can be appropriate for corporate events, one who will blend into the background while still being heard – depending on the mood you want to set. The secret is to select the right singer.
If the budget is limited consider a soloist rather than a full band. Your business may not need a jazz trio – you'd be surprised how much atmosphere a solo jazz guitarist can provide. Often a song we know will raise our mood and encourage us to participate more.
Here is a range of different types of events. I hope this will help you choose the perfect music for your corporate event in the Toronto area.
Classy Cocktail Hour
For an elegant, black-tie affair, classical music and quiet jazz such as Bossa Nova is best. Classical guitar, violin.
Networking Events
For making contacts and individual marketing. After a long day at the office, people want a relaxing atmosphere and the chance to mellow out. Music should be instrumental, never loud. Bossa Nova, 30's and 40's jazz and popular.
Product Launches
A perfect product presentation might also increase media coverage. More lively music is recommended. Modern, popular, up-tempo.
Trade Fairs
A great opportunity to present your latest products to customers and business partners. A duo with guitar and singer works well. R&B, country, jazz.
Opening Ceremonies
To start conventions, annual meetings and other events that last for two or more days. Music can be more energetic – a duo or trio with guitar, bass, sax, violin – even a singer. Modern, popular, up-tempo.
Executive Retreats
Escapes from stressful work schedules and the day-to-day business. Music tailored to the particular organization. I'll work with you to make the best choice.
VIP Events
To increase customer loyalty. Consider popular, modern music.
Whatever Your Event...
~ Client appreciation
~Grand opening
~ Fundraiser
~ Office party
~ Trade show
~ Christmas Party...
"Mr Morey's responsiveness was great. He provided availability on the first call, pricing and flexibility. He is very talented, the audience of 700 people was very pleased by his performance… I will have no hesitation to hire Mr. Dunstan Morey again. "Rodrigo Formosa for Fiesta Americana and Caesar Park Hotels and Resorts
"Provided the perfect musical background to set the tone for our corporate event! Great repertoire, would highly recommend!"Jozina Dykstra for Red Hill Orthodontics, Hamilton